Prepare for your round by watching all 18 holes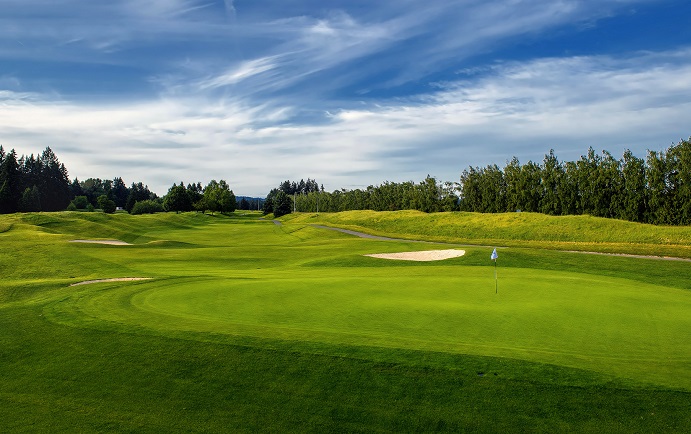 Tour Portland's Premier 18 Hole Public Golf Course

Langdon Farms is a premiere golf course and event venue located just 15 miles south of downtown Portland, Oregon. It's consistently rated highly among the best rated golf courses. In fact, OregonLive.com called Langdon Farms one of the top golf courses in the area.
Our mission is to be the best conditioned public golf course in the four county area. Local, regional and national golf writers have all recognized us as a 'truly unique golf experience' as a result. We invested in year-round dry conditions well before it was the 'cool' thing to do.
Please explore all 18 holes of Langdon Farms Golf Course below by clicking on each hole to view flyover video! Ready to book a tee time? Click Rates & Tee Times below.

Reading the Course Information
Par refers to the number of expected shots needed to complete the given hole. Stroke Index is a difficulty rating system used to calculate handicaps. The number after each tee is the distance (in yards) to the hole from that tee location. Want to know more? Check out our Golf Instruction programs!
• Par 4 •Stroke Index - 13
• Tee Eight - 405 • Tee Seven - 372 • Tee Six - 372 • Tee Five - 359 • Tee Four - 359 • Tee Three - 329 • Tee Two - 329 • Tee One - 250
• Par 4 • Stroke Index – 11
• Tee Eight – 392 • Tee Seven – 368 • Tee Six – 368 • Tee Five – 346 • Tee Four – 346 • Tee Three – 286 • Tee Two – 286 • Tee One – 242
• Par 3 • Stroke Index – 17
• Tee Eight – 192 • Tee Seven – 173 • Tee Six – 173 • Tee Five – 153 • Tee Four – 153 • Tee Three – 124 • Tee Two – 124 • Tee One – 124
• Par 4 • Stroke Index – 9
• Tee Eight – 356 • Tee Seven – 322 • Tee Six – 304 • Tee Five – 304 • Tee Four – 270 • Tee Three – 270 • Tee Two – 214 • Tee One – 214
• Par 4 • Stroke Index – 7
• Tee Eight – 440 • Tee Seven – 403 • Tee Six – 361 • Tee Five – 361 • Tee Four – 331 • Tee Three – 331 • Tee Two – 245 • Tee One – 245
• Par 3 • Stroke Index – 15
• Tee Eight – 122 • Tee Seven – 115 • Tee Six – 115 • Tee Five – 103 • Tee Four – 103 • Tee Three – 97 • Tee Two – 97 • Tee One – 97
• Par 5 • Stroke Index - 3
• Tee Eight - 405 • Tee Seven - 372 • Tee Six - 372 • Tee Five - 359 • Tee Four - 359 • Tee Three - 329 • Tee Two - 329 • Tee One - 250
• Par 4 • Stroke Index – 1
• Tee Eight – 464 • Tee Seven – 449 • Tee Six – 411 • Tee Five – 411 • Tee Four – 367 • Tee Three – 367 • Tee Two – 272 • Tee One – 272
• Par 4 • Stroke Index – 5
• Tee Eight – 427 • Tee Seven – 409 • Tee Six – 376 • Tee Five – 376 • Tee Four – 310 • Tee Three – 310 • Tee Two – 254 • Tee One – 254
• Par 4 • Stroke Index – 12
• Tee Eight – 386 • Tee Seven – 365 • Tee Six – 365 • Tee Five – 342 • Tee Four – 342 • Tee Three – 302 • Tee Two – 302 • Tee One – 230
• Par 5 • Stroke Index – 2
• Tee Eight – 629 • Tee Seven – 607 • Tee Six – 558 • Tee Five – 558 • Tee Four – 471 • Tee Three – 471 • Tee Two – 365 • Tee One – 365
• Par 4 • Stroke Index – 4
• Tee Eight – 446 • Tee Seven – 425 • Tee Six – 399 • Tee Five – 399 • Tee Four – 343 • Tee Three – 343 • Tee Two – 260 • Tee One – 260
• Par 3 •Stroke Index - 18
• Tee Eight – 179 • Tee Seven – 166 • Tee Six – 166 • Tee Five – 148 • Tee Four – 148 • Tee Three – 130 • Tee Two – 130 • Tee One – 100
• Par 4 • Stroke Index – 14
• Tee Eight – 416 • Tee Seven – 379 • Tee Six – 379 • Tee Five – 353 • Tee Four – 353 • Tee Three – 309 • Tee Two – 309 • Tee One – 245
• Par 4 • Stroke Index – 10
• Tee Eight – 361 • Tee Seven – 340 • Tee Six – 340 • Tee Five – 311 • Tee Four – 311 • Tee Three – 276 • Tee Two – 276 • Tee One – 206
• Par 4 • Stroke Index – 8
• Tee Eight – 420 • Tee Seven – 411 • Tee Six – 371 • Tee Five – 371 • Tee Four – 321 • Tee Three – 321 • Tee Two – 256 • Tee One – 256
• Par 3 • Stroke Index – 16
• Tee Eight – 224 • Tee Seven – 204 • Tee Six – 204 • Tee Five – 185 • Tee Four – 185 • Tee Three – 167 • Tee Two – 167 • Tee One – 124
• Par 5 • Stroke Index – 6
• Tee Eight – 514 • Tee Seven – 502 • Tee Six – 488 • Tee Five – 488 • Tee Four – 410 • Tee Three – 410 • Tee Two – 360 • Tee One – 360